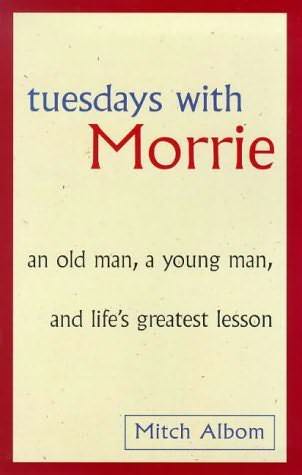 I don't know if I would call this a book review, it's a little different. This book has touched me, when I closed the book, I sat there and cried for a couple minutes and just reflected on my life. It is so powerful.
I feel like I picked up this book at just the right time in my life, just when I needed it. I could relate with it in so many ways. I felt like Morrie knew what I was going through.I smiled, I cried, I reflected, it brought so many emotions out of me. Mitch basically has his last 'class' with an old professor and their subject is the meaning of life. They meet every Tuesday, and every Tuesday they cover a different topic about life and death.
I'm going to just write the life lessons I got out of these 'life lessons' from Morrie.
Love wins. Love always wins.
Be compassionate
LET IT GO. Detach
There is no such thing as "too late" in life
The most important thing in life is to learn how to give out love, and let it come in.
Don't cling to things, because everything is impermanent
I deeply recommend everyone to read this book, it has impacted my life.